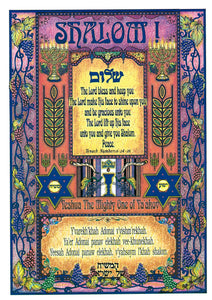 "Thus you shall bless the people of Israel: you shall say to them, The Lord bless you and keep you; the Lord make his face to shine upon you and be gracious to you; the Lord lift up his countenance upon you and give you peace" - Numbers 6:22–27
The Aaronic blessing is perhaps the most famous in all of scripture, and for good reason. God directly commanded Aaron (through Moses)—and the many who would come after him—to bless the people using those words.
Much more than a nice sentiment, these words convey a powerful message about God's love and devotion to His people. This is as much a blessing to the people as it is a promise from God that He will continue to watch over those who love Him.
Place this card prominently in your home—and be constantly reminded of the presence of God through His powerful blessing.
Measures 8.5" x  11.5"